Akcja "Zamiast Kolczatki – Obroża i Smaczki" jest ogólnopolska akcją, która ma na celu:
1. pomoc zwierzętom bezdomnym
2. promocje szkolenia bez używania awersji i przemocy
Chcemy zachęcić wszystkich, aby oddawali nam swoje stare i nieużywane już kolczatki, lub te, które wciąż używają zamienili na obroże lub szelki.
JEŚLI MYŚLISZ, ŻE KOLCZATKA TO JEDYNY SPOSÓB NA NAUCZENIE PSA CHODZENIA NA SMYCZY, TO PRZECZYTAJ NASZE PORADY, A KOLCZATKI ODDAJ NAM W ZAMIAN ZA PORADĘ!
Zebrane kolczatki, obroże zaciskowe, łańcuszki, łańcuchy od bud oraz wszystkie inne metalowe "akcesoria awersyjne" zostaną zważone i oddane na złom! Pieniądze uzyskane z zebranego sprzętu zostaną przekazane lokalnym schroniskom dla bezdomnych zwierząt lub organizacjom opieki nad zwierzętami na zakup najbardziej potrzebnych rzeczy i jedzenia dla zwierząt.
Podczas ważenia odbędzie się konkurs. Która placówka (lub grupa placówek w danym regionie) uzbiera najwięcej kolczatek, zostanie honorowo nagrodzona! Koniec zbiórki i ważenie odbędzie się pod koniec lata (koniec września 2012).
Chcemy zachęcić jak największą ilość właścicieli psów, placówek szkoleniowych, trenerów i behawiorystów do wzięcia udziału w tej akcji. Jest to ogromna promocja szkolenia nieawersyjnego oraz możliwość zrobienia czegoś dobrego dla bezdomnych zwierząt. Im więcej osób i szkół przyłączy się do akcji, tym mamy lepsze szanse na dotarcie do jak największej grupy ludzi.
Zapraszamy do kontaktu, do współpracy i do zbiórki!!
Dajcie nam znać dla kogo będziecie zbierać i komu przekażecie uzyskane pieniądze.
Na terenie Krakowa kolczatki można przynosić do Schroniska dla Bezdomnych Zwierząt przy ul. Rybnej 3, do Krakowskiego Towarzystwa Opieki Nad Zwierzętami przy ul. Floriańskiej 53, lub do zaprzyjaźnionych placówek szkoleniowych.
Dołącz do nas na facebook
>> zbieramy kolczatki
>> zebrany sprzęt oddajemy na złom
>> pieniądze przekazujemy na rzecz zwierząt bezdomnych
Artykuł o nas w gazecie: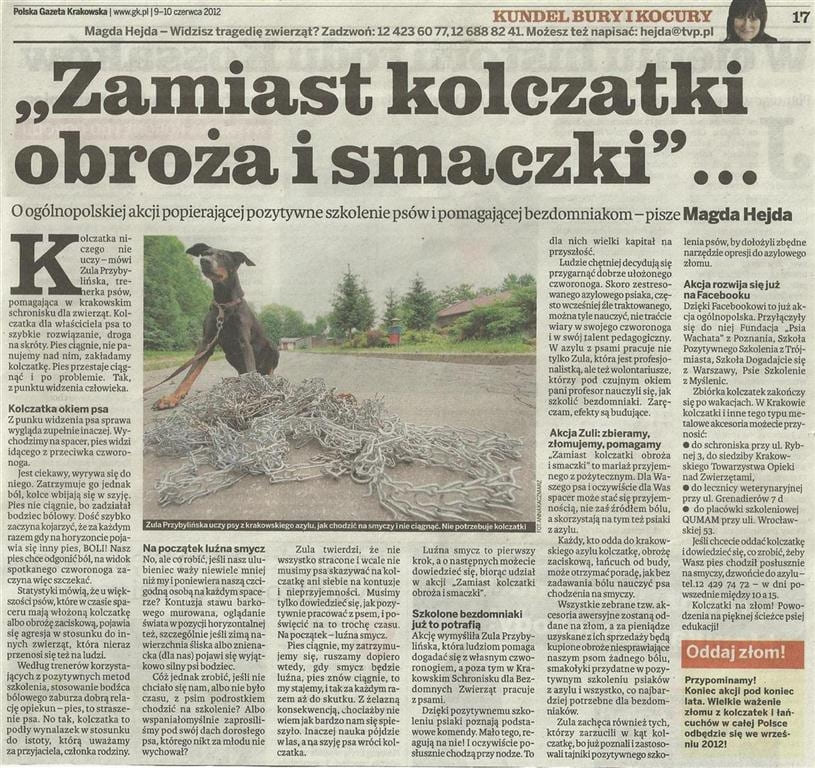 Wspierają naszą akcję: